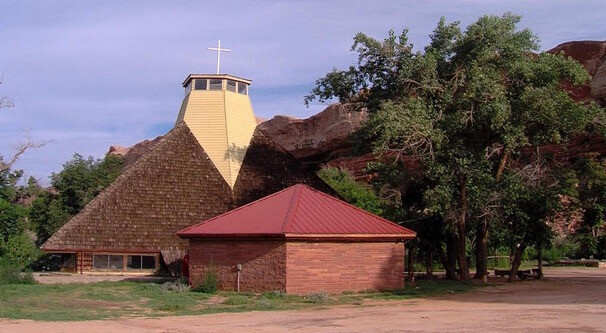 06.23.20

| by

The Rev. Kay Rhode
An Update on Navajoland from the Rev. Kay Rhode
To our Partners:
Greetings from the Utah Region of the Diocese of Navajoland. This has been a challenging time for all of us, and I hope that you are all safe and healthy. I want to share the news from the Utah Region – St. Christopher's, St. John the Baptizer and St. Mary in the Moonlight. Wow! What a different kind of Lent, Easter and Pentecost it has been as all of the familiar celebrations and traditions were set aside during this time of Covid-19. All in-person worship and activities were suspended on March 15. The diocese has been offering Morning Prayer every Sunday on Facebook and on the Navajoland Webpage. The responsibility rotates around the regions. A Spiritual Eucharist was live-streamed from the chapel at the Hozoh Center at All Saints in Farmington on Easter and Pentecost. In addition, all of the clergy have been taking turns providing a prayer and/or meditation each day, which GJ Gordy then sends out as a text message, and on Facebook and e-mail. We in the Utah Region have stayed in contact with most of our parishioners, either by phone or text message. I have even been doing some theological discussion via text messaging with a couple of folks. In some ways we have had a deeper relationship with some of our community than just saying hi on Sundays. A new way of being church and maybe more like the early church experienced!
The virus continues to run through the Navajo lands, and though there is thought that perhaps it peaked in late April, the cases continue to increase, but for now, the medical facilities are able to cope with the numbers. The conditions out here make it difficult to practice the simple steps to avoid the virus for many: extended families living in close proximity to one another makes social distancing not easy or possible, the lack of running water in the homes makes handwashing a real challenge, especially if water has to be hauled, and travelling from remote locations to get food and the non-existent hand sanitizers and other disinfectant resources is difficult for many including those in quarantine, or those with no transportation.
Thanks to the generosity of partners, Episcopal Churches all over the country and others, donations to help provide needed food and supplies to the people of the Navajo Nation have been coming in. Here in the Utah region we have been partnering with a local restaurant, Twin Rocks Café, to get food boxes each week which members of the congregation help deliver to other members and their families in Montezuma Creek, Monument Valley, 5 Points and Red Mesa, Bluff and Blanding. As we hear of others that are not able to get out to shop, we add them to our list. We currently are distributing about 30 boxes a week. Twin Rocks staff order the supplies from their supplier, pack the boxes and deliver them to the mission, where those doing the deliveries pick them up and get them delivered. This partnership has worked well for us as we do not have the people to separate, package and pack that number of boxes – or the sanitary space to do it safely. It also provides some economic support to a local business. The boxes have been appreciated. In addition, we also have been ordering canned goods and staples from the big trucks that have been bring supplies in for the other regions. We then pass those items to a group that has been doing awesome work here in the Utah area of the reservation. They gather donations – mainly from huge drives in the Salt Lake City Area and then distribute them through The Utah Health System. We are discovering how partnering with others helps us serve more people!
This Spring was not at all what we had been expecting. We missed all of you who had been going to come be with us and help us to continue to move forward in getting ready to be that place where people could come to "heal their hearts and recharge their spirits.." We had 5 groups scheduled during April, May and June and were excited to see them again. It was disappointing to have to say that all trips had to be cancelled. The folks from Colorado who had a number of trips planned to come continue work on the Common Building were not able to come. And we have also had to cancel the groups that were planning to come during late June and July. The work is still here to be done – at a later time, when it is safe for not only you, but for our Navajo brothers and sisters.
In the meantime, the staff and parishioners have been watering the fruit trees, Walter and Bill have ordered roofing material to put on the roof of the Museum Building to prevent any more water damage. Walter has been valiant in trying to keep the grounds looking neat. I even saw him out attacking the goat heads that are starting to grow again! The Prickly Pear and Cholla cactus have beautiful blooms this year. The hardy holly hock is blooming by the front door of the Common Building (and it does it without much water!) and the lilies are blooming in the old church area!
Work has resumed on the projects that are being funded by a sustainability grant from The Episcopal Church. The Covid-19 requirements to shelter in place meant that work stopped for a time – some to just process and then to figure out how the work could be done safely. Kenny is back to wiring the vicarage, with Walter's help to remove and then replace dry wall pieces as Kenny pulls the wires. Once the wiring is done, Walter can then work or upgrading the plumbing in the second bathroom so that it will be functional again. Once the vicarage is done, then Kenny will move over to work on the wiring and panels at the Common Building.
Even in the midst of pandemic, new ministries can find fertile ground. St. Christopher's is working with others in the community of Bluff to host a permanent Food Pantry. The Covid-19 situation raised the awareness that the need for plentiful, good, nutritious food is and has always been a need here in this area. When the virus has been contained, there will still be a need for food assistance. There has always been that need, and in its beginnings, St. Christopher's provided meals for the people. The Food Pantry will be on the south end of the Clinic Building. Space will be provided rent free and the mission will provide the electricity. Mission staff will not be running the project, but will support it in various ways. It is hoped a 501-C3 non-profit will be established with a board made of members of the Bluff community, St. Christopher's and representatives of the clients served. There is work to be done as it needs to be rewired and the room prepared.
The other enterprise that may bear fruit centers around the gardens that members remember from Fr. Liebler's days and want to see on the grounds. The greater Bluff community embarked on exploring the possibility of a Community Garden and the Utah State Agriculture Extension agent came to do a presentation to the Bluff City Council last fall. She prepared a survey for interested people, and the overwhelming response from participants was that St. Christopher's would be the best place for such a project. She came down to look at the possible garden spaces, to see the farm site and orchard. She took soil samples from various locations and water samples from the well and from the pond down by the river. It is hoped that maybe a small garden can be put in – probably in the Orchard area this summer, while planning takes place for what the community garden concept looks like here in this place and how will it be managed and operated. In the meantime, a seminarian from Virginia Theological Seminary and his family are here for 6-8 weeks, and they are building some raised beds (and relocating the boxes down at the farm) in the area behind the school building (where the playground has been). And in God's wonderful way, St. Christopher's received a sizeable gift from a church in Florida for the Orchard. We contacted the group to ask if it could also help with gardens (before we know about the Community Garden). Stay tuned and see what will happen next as new ministries unfold. All of these will fit in with the vision of St. Christopher's ministry of hospitality, retreats and education. There is a lot of interest in having classes for the users of the Food Panty around nutrition, food preparation, etc. and most certainly many opportunities for classes in various kinds of gardening and orchard information. God is good!!
WATER FOR ST. JOHN'S!!!!!
With the generous assistance of the Diocese of West Texas Water Mission Board, St. John the Baptizer Church in Montezuma Creek will have running water, when ever we can meet in person at the church again! Last week a huge cistern was buried in the ground and hooked up to the existing piping into the Parish Building. The water is running again! Walter will haul water to be pumped into the cistern, and a wonderful new solar pump will pump from the cistern into the building. No more hauling water for drinking, cooking and dishes, and no more outhouse!
As many of you know, I am retiring (again!) at the end of June. After 46+ years of ministry – 32 years in the National Park Service and almost 27 years as an ordained priest, I am stepping away from active ministry in the parish or diocesan setting. A priest is a priest forever, and I am planning to supply when I can in Navajoland, but I am looking forward to having time to go visit my grandson for more than 3 days at a time, and to travel (when it is safe to do so) to visit friends that I only have had time to text or talk with on the phone. It is truly with mixed emotions that I leave. I will miss the people and the landscape and the stories. Our story and journey together are not over, it just will be a bit different. I am moving down to Albuquerque, at least for a time. I found a rental right across the driveway from my sister's home! It is easy to get to my son's – where ever he may end up. After a suitable time of sabbath, I imagine that I will be looking for something to do – and should I decide to go back to my naturalist roots – there is the Bio Park, Petroglyph National Monument or several other National Park Sites nearby.
I will be back up to conduct my final services later this fall, when we are able to meet together as communities again. It is very strange leaving without getting to celebrate our time together. I am also hoping that it works out that I can return when you all are able to schedule your next visit so that I can see you, thank you and introduce you to Jack Chase.
The Rev. Jack Chase is going to be the priest in charge here for the next while. He is coming here from Crockett, Texas. He actually has been here since mid-February as he was coming to work on re-establishing a consistent presence at St. Mary's in the Moonlight in Oljato. He had made some contacts, started regular services (2) on Sunday, but then the world changed we had to suspend worship in the church. He has continued trying to be in contact with people, and his persistence paid off. He has been sending regular letters to those few for whom he has contact information (just like St. Paul!), and we have been getting food boxes for members of that community, and they are getting distributed. We were trying to do this while I was still here, and he could focus just on St. Mary's. And we were hoping that he could also be here when you all come and meet you and learn about your commitments and roles in helping to move forward with the vision for St. Christopher's.
I want to thank you all for all that you have done, and will do for this special place. I value so much your friendship and love and I pray that you will be able to return and to continue as friends. I know it was as disappointing for you as it was for us that you were not able to be here. And for those who have sent the funds that you would have spent to come, Thank You!! Your gifts have been so important in helping us to cover our normal expenses, and your generosity has also let us purchase the roofing materials so that Walter can repair the badly leaking roof in the Museum Building. You all are awesome!
I hope to see you all in the next year. Stay in touch. Keep us all in your prayers, as you are in ours.
Peace,
Kay