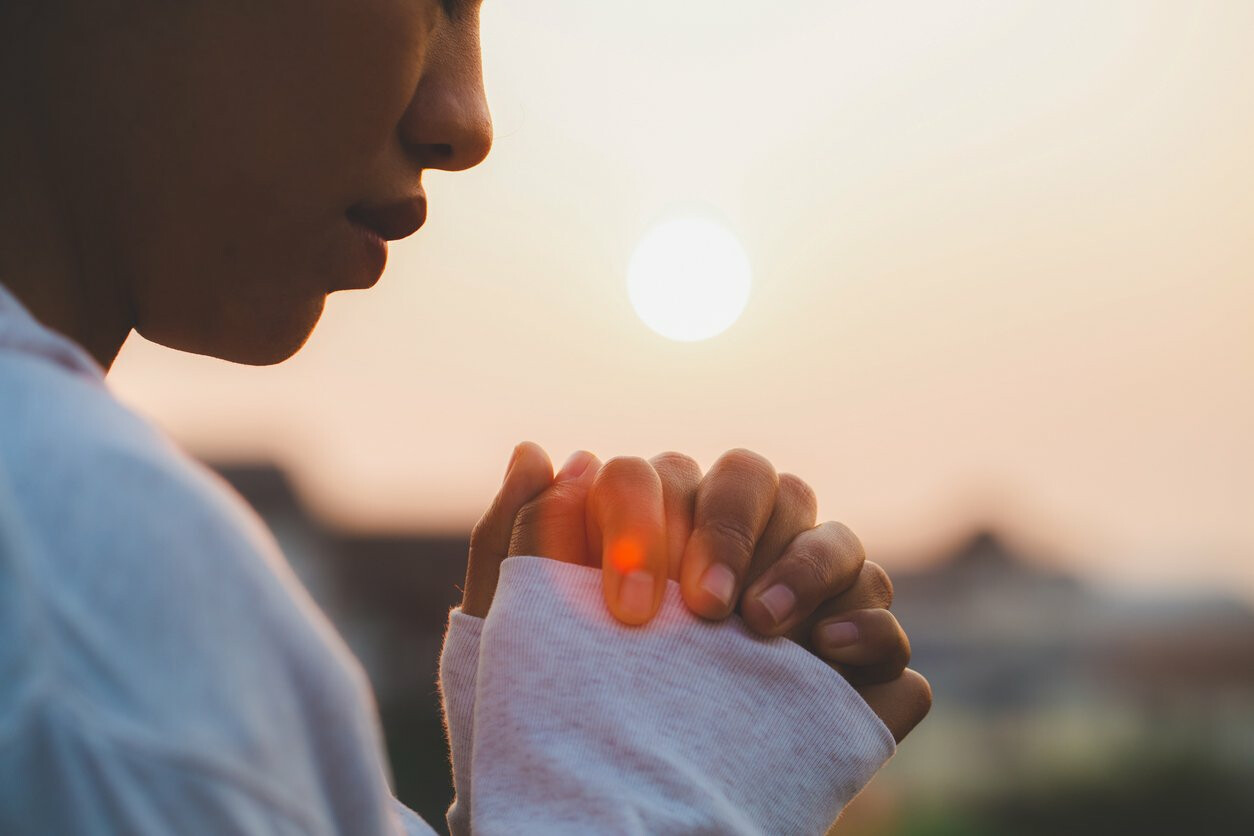 03.29.22

| by

Mtr. Catherine Thompson
Due to the fact that many of us have not learned new ways to pray beyond what we memorized in Sunday School when we were young, it comes as no surprise that praying as adults may seem intimidating at best or irrelevant at worst. It's important for us to remember that prayer is simply having a conversation with God, participating in an ongoing conversation that has existed between the three Persons of the Trinity from before we were born.
Perhaps a good place to begin is the simplest. The Rev. Canon Dawn Davis created a form of prayer called the Everyday Prayer. The beauty of this form of prayer is that it can be used at any time, in any place. It doesn't require a person to sit still, in silence, with eyes closed. You can use it while you are walking, driving or making dinner, in much the same way you would if your closest friend were participating in that activity with you. It contains many of the common elements we find in traditional prayer forms, but simplifies the process, so it is easy to remember and easy to use.
PRESENCE
To begin, it is important to settle yourself so as to make the mental, physical, and emotional shift needed for communicating with God in prayer. As the psalmist says, "deep speaks to deep." Relax your body and be aware of any feelings of apprehension, tension, excitement, contentedness, or other emotions. Be aware of how your body feels. Relax the muscles of your face and let your shoulders fall. Take five deep, slow breaths. Be mindful of your breathing. Shift your mental focus to God. Still your thoughts and bask in God's peace. Continue to breathe deeply and slowly. Stay present to this moment.
THANKFULNESS
Begin by recalling something for which you are thankful. Perhaps there are several items on your list. It could be the love of family, a wonderful meal, or the beauty of God's creation that surrounds you. More and more experts are highlighting gratitude as a way to improve our physical well-being, our emotional health, and our sleep habits. There may be times in your life when it is difficult to name something for which you are grateful. Like Jesus, you may wonder why you have been forsaken. In these dark moments, simply give thanks for the promise God has given us to be present.
ASK
The technical term for this is petition. Name something that is weighing on your heart or mind. Be as specific as you can. It can be for you, or on behalf of someone you love. Simply lift it up to God.
FORGIVENESS
This is also called contrition. Bring to mind anything you regret, anything you've done for which you are sorry, or anything that weighs on you and pulls you away from God. Offer it to God with a sincere heart.
LISTEN
Now just listen. Simply be open and receptive to God as you sit/stand/walk in silence for a moment. For some, this can be the most difficult part of prayer. Focus on being still and attentive to God who wants to communicate with you. You can set a timer if you are worried about falling asleep, but try to spend 10 to 15 minutes simply listening.
END
After you have spent time listening in silence, end your prayer time by saying a simple, "Amen."
If you journal, now would be a good time to write down any insights you may have heard during your time of prayer. Keeping a daily journal will enable you to look back and see how God has answered your prayers, many times in surprising ways.